Greetings, Little Guy.

I hope you never find yourself convinced that enjoying sports is the "manly" thing to do. Many guys don't care about sports. Sports exist, and both men and women can like them or hate them. End of story. If you decide that you loathe sports, I will fully support you.

Cool. Now that I got that disclaimer out of the way, I need to inform you that over the next four Halloweens, I plan on dressing you as a baseball, a football, a hockey puck and a basketball. If you are a slender baby, I will change those costumes to a wooden bat, a first-down marker, a hockey stick, and Phil Jackson.

I love sports.

Good news (for me): You may eventually share my passion for sports.

Bad news (for you): You may also share my utter lack of athleticism.

I am a terrible athlete. I tried fixing this for years, but all my efforts were fruitless. Milk didn't do this body any good. Being allergic to several nutritious substances has not helped. Exercise was only effective when I managed to not hurt myself. Then, the guy at the GNC store got irate when I asked him for quality Human Growth Hormone at the mall. I initially tried to be discreet and asked for "the good stuff you keep in the back," but the guy was bothered by my inability to wink. I kept scrunching up my face, and I closed both eyes every time without fail. That was the day I learned that my poor coordination would keep me from cheating effectively. Damn you, failed motor skills.

Don't get me wrong, little baby. I've had my fair share of athletic triumphs. When I was 10, I won a small trophy at a regional karate tournament. During my fight, a stubby man-child punched me in the throat. I laid gasping on the floor for a few moments, uncontrollably heaving as the judges stared at my rising and falling rib cage. I was probably trying to find my parents' faces in the crowd, so I could mouth the phrase "goodbye" as I took that final gasp. Then the judges decided to disqualify my opponent for inappropriate conduct.

Victory was mine!

They let me gather my thoughts and mouthpiece, before watching me get vanquished by a small child in the next round. Third place trophies are awesome.

In high school, I was an accomplished pole vaulter. They let me use a special pole because of my extraordinary ability to weigh half as much as most teenagers. It was purple, and I gave it the name Excalibur. Before every meet, I would strut around the runway like a confused animal, holding Excalibur and staring blankly at opponents. I also spent some time practicing my form, which seems extremely unlikely when one sees this picture.

The track coach even gave me the Sportsmanship Award plaque. It's the award they give to that guy who makes everyone laugh while being terrible at all athletic activities.

I continued to showcase my athletic prowess in grad school, where I joined a talented intramural softball squad. They needed me. I talked a lot of trash, used the term "wheelhouse" as much as possible, and I brought an extra glove so they would let me play. It was a good time. I particularly enjoyed it when we got to play against real athletes. One guy chose to play with his shirt off, likely because his torso was built in a lab somewhere and he wanted to show us the achievements of modern science. This dude took sports seriously, so I doubt he was all that happy when I came running around first wearing a pink helmet while yelling "he put it in my wheelhouse!"

This is not necessarily your future, little dude. You may be a hell of an athlete. But you might want to work on your charm, just in case.

Powered by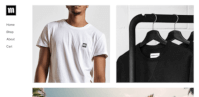 Create your own unique website with customizable templates.