Hello future child.

As you may eventually hear from your friends at school, your father is a nerd. He has big teeth. He is allergic to everything. He wears your mom's maternity pants on accident. Let them talk. Just show them a picture of your ridiculously hot mother. They will immediately realize that your father
a) is extremely charming, and b) makes really smart investments.

I am like the guy that bought Apple stock in the 1980's, except that guy probably has more cat friends than people friends. I have people friends.

I also have your mother. Pretty soon, you will too. We win.

Powered by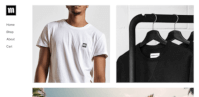 Create your own unique website with customizable templates.