Greetings, Tiny Little Monster.

Several years ago, I embarked on a road trip across the U.S. with my friend Jimmy. Having no qualms with couches or hard floors, we searched for free lodging. One evening, a friend helped me arrange an overnight stop at a "home" located an hour outside of a major US city. This was a mistake.

The house was nestled at the edge of a sprawling ranch, with barrack-like buildings surrounding the home. We knocked, and the door was promptly answered by a man in his mid-fifties, introducing himself as Larry. I remember nothing of what Larry said after the introduction, as I was distracted by
a) the large number of pretty women standing on his stairway
b) the babies that were all playing together on the living room floor

Please note that none of those women were more attractive than your ridiculously attractive mom, and only two of those babies were cuter than you. Larry explained that he lived in the home with his family and a boat load of college-age honeys. He worded this differently, as ministers often do. There were men at the compound, of course, but they lived in the barracks located 80 yards from the house. We were welcome to stay for the night.

We went searching for the menfolk, and brought our luggage to the assigned sleeping quarters. There, we met the first male not named Larry. He called us "brothers" and smiled often. I asked our newfound sibling to share a little about the group. He spoke for a while, but this is an adequate paraphrase:

"I came out here for the cause, you know? We're just here for the cause, bro. We want to change legislation, so we're just here to do it. We follow Larry. A small circle of leaders will make group decisions based on Larry's visions."

He may as well have said "Bat balls crazy monkey hat binoculars," because I could not remember a thing he said, apart from that last terrifying phrase:

"…based on Larry's visions."

Little Baby, here's a secret. People who belong to a cult have no idea they belong to a cult. This group was terrifying, no matter what political or religious beliefs you may hold. Jimmy and I never agree on anything, but we concurred that this place scared the happiness out of us. The idea that one man was guiding an organized, severely isolated clan of young law-changers should not make anyone thrilled. It becomes scarier when you realize that the group was governed based on that one man's dreams.

Remember that time you met up with a half-naked church friend and decided to cook dinner for a cat because it looked really hungry? That was a dream. I once had a dream that I met the Olsen twins, and they were super nice. Dreams are like that.

According to our new Bro, Larry would gather his most trusted young people together and devise a plan based on the previous night's visions. Unfortunately, Larry's visions were not nearly as exciting as mine. If I were to establish a commune based solely on my dreams, it would be gloriously accurate. I would create an adult school and decree that everyone attends school naked. Random celebrities will join you throughout the day, and they will be accompanied by long lost neighbors whose names you can't remember. We shall require that people always fall and run in slow-motion, and that one person is being chased at all times. Then we will start our own version of NASCAR where everyone uses wheel-barrels pulled by a legion of lemurs. Because God says so.

Later that night, Jimmy and I slept on a sweet pair of bunk beds. I woke up at 2am and found an odd looking white fellow looking at me, about 6 inches from my face. He looked as shocked as I was. "You're not Gary."

Nope. Not Gary. I wanted to ask why he and his friends were surrounding my bed. I also wanted to ask why the bookshelves contained titles like "Finding God's Will In Your Dreams." And I really wanted to ask why they needed 80 acres of rural land to change legislation. But I didn't want to die, so I left.

Powered by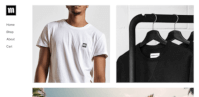 Create your own unique website with customizable templates.