Hey Baby.

One day you'll learn that lying is bad.

And then, some other day, you'll learn that lying is hilarious.

I am not suggesting that you lie. I am suggesting that you be able to recognize when someone is lying, and then laugh at him or her for a really long time. Let me help you understand. You know that friend of yours that tells everyone his dad owns a horse? You know him. Last week, he said that the Kardashians came to his birthday party. That is a funny dude. Bring him over more often.

He'll grow up and become that one-of-a-kind whopper-espousing friend that EVERYONE wants to have. A true classic. I'm not talking about the guy that met Shaq once. I'm talking about the guy that was drafted by the Lakers but had to turn down a roster spot because he was an undercover cop at the time and all the guys down at the precinct were depending on his leadership. That guy is hilarious.

When you get older, little baby, make sure that you choose good friends. Stay away from the kid that likes to smell his hands

. Avoid the guy that really wants to show you all his dad's sharp tools. Keep a distance from that kid who always sings Creed songs. And bring us one bold faced liar, so we can all have a good laugh. Yes, it's wrong. But it's also hilarious.
Powered by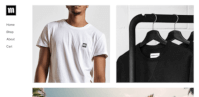 Create your own unique website with customizable templates.