Dear Little Baby,

After we bring you home from the hospital, we will choose how to present you to the world. Many of our peers have chosen forms of social media. These are online platforms that allow a grown man to show the inside of his wife's uterus to all of his friends without feeling awkward. Future dads get to say, "Hey high school friends, come and check out what I put in that uterus! Trust me, it's going to be a baby." This way, it becomes much easier to display pictures of the actual baby after it's born, no matter what it looks like.

"Remember when I showed you that picture of a skeleton wearing a Luchador mask? Well don't worry. My baby has a face now, so it's cuter."

This "show-off the baby" stage is actually quite daunting. It does not help that The Lion King has given me terribly unrealistic expectations. First of all, that primate holds the baby with so much confidence. I can't hold a baby without fearing that his arm might fall off like he's a faulty super hero figurine. Secondly, the crowd's excitement is terribly misleading. Whenever I watch that opening scene, I tend to imagine that some of the animals aren't so enamored with the royals. It would make sense. There have to be some griping, pissed off antelope sitting by the lake somewhere. They can't all be dancing in unison. Somewhere, far from the circle of life, there are some bitter antelope. They likely knew Mufasa in high school and thought he was a punk bully with a nice mane and a rich dad.

"Boooooo! Booooo! I hope the monkey drops that kitten, you tyrant! Boooooo!"

These thoughts have left me with some apprehension. Should I show you off? Will people cheer? Those hypothetical antelope haunt my dreams. I can imagine other dad bloggers flipping through pages of Facebook baby images, and rating them Cute OR Not. I fear for your ranking.

Still, I cannot imagine that anyone would have a hostile reaction to you. People love me. People love your mom. I never ate anyone's family and shrugged it off as "the circle of life." When I post pictures of you on Facebook, or hold you above my head in a crowded grocery store, everyone will cheer. They should, because you are going to be mind-blowingly cool.

Powered by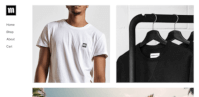 Create your own unique website with customizable templates.