Dear Monster,

One never knows when life-changing news is coming. The other day, your mother walked into our bedroom at 6am and told me we were having a baby. I was half awake, but knew instinctively that it was the kind of news that makes bad days good. I didn't need to hear any more of it. I smiled, hugged her, and then promptly got back into bed.

You might consider this insensitive, but sh#* just got crazy, and I'm going to need my sleep.

Powered by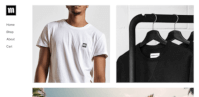 Create your own unique website with customizable templates.