I finally have a camcorder. I think. Is that still what we call a video camera? I feel like the guy who saved all his money to buy a boombox the day after CD players came out. I fully understand that most phones have filming capability, and very few people own video cameras. I do not care. I wanted to film this kid for hours, so I bought a camera.

Unfortunately, my son has decided to stare blankly into the lens at all times. When the camera light goes on, his lights go off. Nobody is home. For whatever reason, the kid just stares. Because of the utter lack of activity, I decided to liven up the video with a little dialogue.
Powered by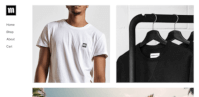 Create your own unique website with customizable templates.