Dear Formless Being,

One day, you'll come home and tell me a disheartening story about the kids that stole your bike. Or the kids that put mud in your juice. Or the kids that told everyone your dad was a male stripper.

You'll seek revenge, and I'll likely tell you that revenge is wrong. "It only leads to more hurt." That's a quote from Future Me. I completely agree with Future Me, because I think that Future You will be an absolute terror, and Future Me needs to be a hard ass.

In reality, I probably couldn't help you anyway. My attempts at revenge have rarely been glamorous, or even effective. I could never be a mobster or any sort of professional that has retaliation as part of their job description. That is, unless I am being asked to avenge a puppy. Then it's on.

Suzie walked into my place of employment in 2003, holding a beautiful black labrador puppy. "I found this puppy on the cliffs by the beach," she said. "I need to find someone that will take her. Would you like to have her? And if not, can you ask staff members if they want her?"

The puppy was beautiful, and your grandma had long been saying that she would like a new dog. I called her immediately, and by 10pm that night, the dog was home. Over the next couple days, I heard reports of how much your grandma loved the dog. Suzie occasionally saw me in the cafe where she worked, and she often requested updates on her old puppy. I expressed my gratitude, and happily relayed grandma's newfound joy.

Then it got weird. I discovered from a close friend that Suzie did not find the puppy on the cliffs. She had supposedly found the dog near the Mexican border, where she met a nice homeless man and traded a blanket for the puppy. She then brought the puppy home to her college dorm, to be her new roommate. Friends later told me that she dropped the puppy while playing, and the dog immediately started acting funny (she walks with a limp to this day). Suzie kept her in the dorm room, and fed her scraps from the cafeteria. After a few days of this, Suzie became bored and decided to give her away. Hesitant to tell the truth about the puppy, she decided to visit all university offices and describe the dog as "rescued on the beach."

Suzie wasn't a cruel person, but she was selfish, short-sighted and dishonest. I decided that I should confront her about this deception in a totally passive aggressive manner. I walked to the cafe, ready for battle.

Suzie:

"Can I take your ord- Oh Hey! How's my puppy? Tell her I said hi."

Me:

"Hey....I'd like a smoothie. Uh, yeah the dog... sh*# got crazy man. I don't know what's going on. The dog bit my brother, and now doctors are saying the dog has a disease only found in Mexico.... not rabies, but like it, I guess. It's really weird, and it makes no sense, right? My brother is in the hospital, but he'll probably be fine, we think. (Long, long, dramatic pause) We don't know what to do about the dog though. It probably has to be put down... ah, I don't don't know...don't really like talking about it. I got to go."

She just stood there, unable to say anything in response. She was probably thinking about my puppy, sitting on The Row, waiting for the needle. Or maybe she was picturing your uncle, crying out in his hospitable bed. I was thinking about my smoothie. It was one of those pineapple-strawberry lava-flow concoctions, with extra strawberry syrup. It was going to be delicious.

I walked away with the best cracked-voice and fake tears I could muster, and silently applauded myself for the brilliant performance. I discovered later that my roommate came in and decided to follow-up with Suzie. This was not planned. He said things like "Are you laughing? I don't know how you could laugh right now," and "Oh yeah, it's easy to smile when YOUR brother is not in the hospital." I think she felt pretty bad.

My friend informed me that she was about to cry, so we told her the truth late that evening. She never spoke to me again. And that smoothie was delicious.
Powered by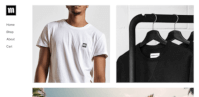 Create your own unique website with customizable templates.