When I was a child, my father set out to build a backyard fort. To this day, the structure is his greatest architectural achievement. Though his three rambunctious boys are now three semi-mature adults, that clubhouse still stands amidst orange trees and a vegetable garden. It remains glorious. When I initially embarked on this parenting adventure, I figured that I would have to wait several years before creating something of significance. I was wrong. Sort of.

With the help of my sister-in-law and a multilingual instruction manual, I built a crib that has not yet fallen apart. Some of my friendly readers might point out that I technically assembled a crib from parts manufactured somewhere in the United States. They are correct. Still, I assembled that thing masterfully, and I deserve some credit for not assembling it upside down or accidentally nailing it to a door.

This was the latest of several steps we had taken in creating a fun living space for our little guy. Now that Oliver has been here for three months, I can confirm that he thrives in his new habitat. His nursery is baby friendly, personal, and nerdy. He has some fun clothes, a few bath toys, and a wall covered with pictures of historic sports figures. We framed the covers of several sports-themed children's books, and displayed them throughout the room. Prominent sports icons can be found above shelves, next to windows, and hiding beneath smoke alarms. I initially thought of juxtaposing my face on a few of the athletes, just to boost my self-esteem and subtly convince my child that I'm athletic. I eventually gave up my dream, and allowed for the icons to retain their place of prominence. His walls tells stories of Pele, Wilma Rudolph, and small Canadian children that play ice hockey.

In all seriousness, this process was much more complicated than expected. I knew that choosing baby room décor was an important part of the nesting process, because someone said it in Juno. However, I never expected this process to become important to me. It never seemed very significant. In fact, when we first started talking about the room, I optimistically figured that my wife would lead the charge. She happens to be more organized, more intelligent, more artistic, and far more proactive than I am. As facets of the room were discussed, however, I found that I had opinions. Strong ones. I suddenly overthought every aspect of the room, and began to question the messages being sent by whatever and whoever was being displayed on the walls. I questioned the iconic figures, the sports represented, and even the color themes. Questions abounded. Am I accidentally conveying some bias about gender or ethnicity by choosing some pictures over others? Am I forcing my child to like sports? Why are there no pictures of my bearded face in this room?

I spoke with a dear friend who happens to share most of my views on life, and I informed him of my concerns. I was both surprised and comforted to hear him suggest that my worries were absurd. The walls do not matter. My kid receives so much love at every moment of every day, and no faulty room display will detract from that message. My child will learn to love and value all others because he will see that behavior modeled by his parents. I can fret about somehow creating the racist third grader who makes awkward comments at recess, but it simply will not happen.

I probably will not build a glorious, surprisingly sturdy backyard fort for my children. This kid will be lucky if I construct a go-cart without losing fingers. Still, I have plenty of confidence that I can create a decent human being. I'll let you all know how he turns out.

---

Little Creature,

I just learned that you are a male baby.

I also just learned that this is not the same as a mail baby.
Powered by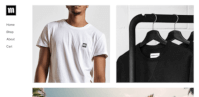 Create your own unique website with customizable templates.