Greetings, Minor Leaguer.

I love baseball almost as much as I love you and your mom. Almost. You two still win, but it is much closer than I would like to admit. If I were to present these truths on a pie chart, and the pie chart happened to be made of real pie, you would be equally pleased with eating any of the three slices. It's that close.

When your mother and I first started dating, she had little understanding of my obsession. In fact, I never truly understood how strongly I felt about baseball until both entities were present, together, in the same place.

The first time I attended a baseball game with your mother, I intended on impressing her. This seemed easy enough, given the circumstances. She was seated fourteen rows behind the dugout. She was watching the game alongside a ridiculously good looking baseball expert. I bought her ice cream in a mini-helmet.

During the fifth inning, we could hear folks rustling behind us as a beach ball was being tossed back and forth. Adults smacked the ball from section to section as children giggled and chased. I looked at your mother and encouraged her to participate in the longtime stadium tradition. "You should hit it. It's your first game. You have to hit it."

Your mother was not tempted, and politely declined.

"But what if it comes to you? Just hit it."

To this day, I have no idea why I was pleading with her. I hate the beach ball tradition, and I think that we should arrest the toolbag that first brought one into a baseball stadium. Still, I wanted your mother to hit the ball.

"Come on, here it is!! You have to do it. Hit it! Hit it!"

I am still not sure if she got caught up in the moment, or simply realized that this meant a lot to me. She flashed a broad smile, stood up, and swung at the ball.

I knew immediately that the ball was going to land on the field. She hit it REALLY hard. I also knew that it was tradition for the crowd to "boo" a person that hit a beach ball onto the field. I instinctively stood up, pointed at your mother, and booed. I booed until the next batter came up to the plate.

That is the story of how you almost never existed. Baseball is awesome, and I like it way too much.

Hello future child.

As you may eventually hear from your friends at school, your father is a nerd. He has big teeth. He is allergic to everything. He wears your mom's maternity pants on accident. Let them talk. Just show them a picture of your ridiculously hot mother. They will immediately realize that your father
a) is extremely charming, and b) makes really smart investments.

I am like the guy that bought Apple stock in the 1980's, except that guy probably has more cat friends than people friends. I have people friends.

I also have your mother. Pretty soon, you will too. We win.


Dear Monster,

One never knows when life-changing news is coming. The other day, your mother walked into our bedroom at 6am and told me we were having a baby. I was half awake, but knew instinctively that it was the kind of news that makes bad days good. I didn't need to hear any more of it. I smiled, hugged her, and then promptly got back into bed.

You might consider this insensitive, but sh#* just got crazy, and I'm going to need my sleep.

Powered by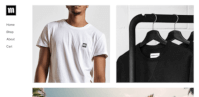 Create your own unique website with customizable templates.