Over the course of my happy and not-so-long life, I have developed a list of food items that I find irresistible, consisting of foods that I have consumed while living and travelling within the U.S. I recently shared this list with Oliver, and he surprisingly responded with "Oh snap, dad. Me too. I have a rich and complex pallet." I have asked him to share some of his favorite foods here, alongside my own. Here they are, in no particular order.

Carne asada, grease, salsa, some more grease. This tastes like Los Angeles, and Los Angeles is delicious.

This stromboli is inarguably one of the greatest things ever created by humankind, right behind the Egyptian pyramids and the Snuggie.

These sandwiches are intelligent, slightly elitist, and very delicious. Thanks, Princeton.

I know, I know. This can be purchased anywhere, and your Vietnamese friend's mother can do a better job than this place. You are wrong. I am right. Slurp it.

These burgers come with grilled onions and blue cheese. And happiness. They come with happiness.

This place makes fried burritos with fruit filling. Who cares? They make donuts.

This list makes me hungry. Somebody order pizza.

There is a reason why my legs are not in the picture. I already ate them.

It is shiny, it occasionally is lathered in crusty spilled food , and I can see the reflection of my face while I lick it. What's not to like?

Dad likes burritos with anything in them. I like this small crevice in the same way.

I never get to taste it for very long. Shocking. Dad and mom pull it out of my hands right before I can get it in my mouth. The mystery makes it more delicious.

Too early to give an honest critique. I want to eat a real gorilla and then compare the two.

I don't know what Laser Eye Surgery is, but I bet it doesn't taste nearly as good as these things.

Jay-Z made a song entirely about tags. He totally gets me.
Powered by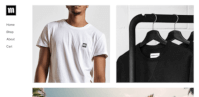 Create your own unique website with customizable templates.