Listen up, Little Gladiator.

Once you battle through the fierce gauntlet known as your mom's uterus, you'll cross the finish line and land in the capable hands of your mother's doctor. You'll hear a lot of noise, see several people, and there's a decent chance you'll get smacked in the ass by a doctor wearing a mask. Just go with it.

You will eventually find my face in the crowd. You might see some other faces first. Those are not your dads. Do not bond with them. Keep scanning the room for a gangly fellow with large teeth. I'll be the one mumbling "just don't drop it just don't drop it just don't drop it."



Dear Little Beast of the Belly,

As I sit here at my computer, a kidney stone is wrestling its way through my body. No joke, little one. I am currently waiting for the rock to finish its journey. I just told your mother that her baby is probably much cuter than my baby.

After I said that, I realized how insensitive I was being. You're my baby too. You and this wretched, jagged rock.

You're both my babies.
Powered by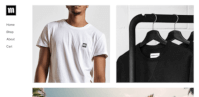 Create your own unique website with customizable templates.