I work in hospice.

This statement has never been written in either of my blog columns. I checked. I actually just conducted a Google search to confirm it. The omission is likely due to the fact that I write about birth, and cribs, and babies punching Santa. Hospice seems out of place here.

However, end-of-life care often evokes conversations relevant to my experience as a young father. My professional work is about family, and loyalty, and legacy. These themes transcend context, and occasionally reach far enough to punch this young father right in the mouth. I find myself smacked with the frightening yet liberating reality that I start dying now. The process starts today. The ways in which I work, and love, and serve will influence the legacy I eventually leave behind, as well as the manner in which I leave it. I am reminded each day that the life I live is meaningful, that it has consequences, and that it affects others. It affects my wife, and it affects my son.

On the rare occasion that I am asked to define my role as a hospice worker, I share that my efforts revolve around meaning. I base my care on that which the patient and family have found most meaningful over the course of their lives. Alongside these brave individuals and their families, I engage the mystery of death and affirm life. I validate faith and the commitment of the individual, and support him or her as life closes. Everything we do revolves around that person's journey. Reconciliation and legacy abound. Heartache is ever-present. A few good laughs are often shared.

I am writing all this to remind myself and others why I began writing about parenthood in the first place. At the end, all we have are stories; Beautiful, sacred stories that bind us and sustain us. Faith, family, and hope are all founded in story, and in death these stories collide.

Today, my stories are joyous, and they are mine forever. Oliver is crawling, smiling, and occasionally raising his eyebrows at ladies in the supermarket. He is awesome. His stories add meaning to my life, and I feel as though I am aware of this now more than ever. Most of all, I am grateful for the opportunity to reflect on our relationship now with enriched perspective, rather than later. If not for my job, that perspective would not exist.

So here I am, because of that "terribly depressing job," anticipating our adventures together with newfound excitement. I look forward to watching Star Wars with Oliver for the first time. I look forward to sharing my faith with him. I even look forward to getting him his own dog, and then watching as he figures out that tails are not leashes.

All this excitement … brought about by that terribly depressing job.


Over the course of my happy and not-so-long life, I have developed a list of food items that I find irresistible, consisting of foods that I have consumed while living and travelling within the U.S. I recently shared this list with Oliver, and he surprisingly responded with "Oh snap, dad. Me too. I have a rich and complex pallet." I have asked him to share some of his favorite foods here, alongside my own. Here they are, in no particular order.

Carne asada, grease, salsa, some more grease. This tastes like Los Angeles, and Los Angeles is delicious.

This stromboli is inarguably one of the greatest things ever created by humankind, right behind the Egyptian pyramids and the Snuggie.

These sandwiches are intelligent, slightly elitist, and very delicious. Thanks, Princeton.

I know, I know. This can be purchased anywhere, and your Vietnamese friend's mother can do a better job than this place. You are wrong. I am right. Slurp it.

These burgers come with grilled onions and blue cheese. And happiness. They come with happiness.

This place makes fried burritos with fruit filling. Who cares? They make donuts.

This list makes me hungry. Somebody order pizza.

There is a reason why my legs are not in the picture. I already ate them.

It is shiny, it occasionally is lathered in crusty spilled food , and I can see the reflection of my face while I lick it. What's not to like?

Dad likes burritos with anything in them. I like this small crevice in the same way.

I never get to taste it for very long. Shocking. Dad and mom pull it out of my hands right before I can get it in my mouth. The mystery makes it more delicious.

Too early to give an honest critique. I want to eat a real gorilla and then compare the two.

I don't know what Laser Eye Surgery is, but I bet it doesn't taste nearly as good as these things.

Jay-Z made a song entirely about tags. He totally gets me.

I finally have a camcorder. I think. Is that still what we call a video camera? I feel like the guy who saved all his money to buy a boombox the day after CD players came out. I fully understand that most phones have filming capability, and very few people own video cameras. I do not care. I wanted to film this kid for hours, so I bought a camera.

Unfortunately, my son has decided to stare blankly into the lens at all times. When the camera light goes on, his lights go off. Nobody is home. For whatever reason, the kid just stares. Because of the utter lack of activity, I decided to liven up the video with a little dialogue.
Powered by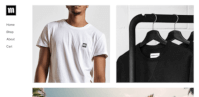 Create your own unique website with customizable templates.