About Awkward Story...
My name is Thomas Rogers. I am a dad obsessed with storytelling, face making, and beef jerky. I have a career in social work, a knack for embarrassing myself publicly, and a ridiculously patient wife. I started this blog as a series of letters to my future child. He is now an actual child, and I actually have to take care of him. Because of this, I stopped writing for like 7 million years. So if you are wondering why the writing is increasingly sparse since 2014, yes, I stopped writing for 7 million years because life moved fast. I now have two children, and I spend so much time trying to keep them from destroying all of our belongings.

As the years have enriched and twisted my life over the past ten years, I have found that all-important hobbies can quickly be set aside without much afterthought, to be replaced by new all-important hobbies. This writing project began as an exercise in preparation, and although it opened up new opportunities and sparked new interests, I decided to spend more time with family and let the website sit here. The preparation worked!! Around that time, I completed an enjoyable 18 month stint as a Dad Blogger at Pregnancy and Newborn magazine. So I stopped doing that, too. Everything continued to change. Although I initially planned on serving as a social worker for youth and families, I landed in elder care in 2011 and never left. As a young social worker in training, I once was tasked with leading a support group for teenage dads. I thought that might be my future, but I now work primarily with cool old people.

I've enjoyed the journey so far. I have two kids, a nice job, and a patient partner. I live close to both sets of the kids' grandparents. Life is moving. Feel free to read and see where it goes.
Powered by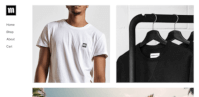 Create your own unique website with customizable templates.