Baby #2 is just weeks away from his glorious arrival, and we're hoping that the sequel will be as critically acclaimed as the original. The first child has been a colossal hit, drawing rave reviews from grandparents, babysitters, and strangers on Facebook. He sings, dances, and tells strangers that they are wrong. Among his greatest quirks are his detailed apologies, in which he explains to you EVERYTHING that he finds significant about his mistake: "I'm sorry, daddy, for hitting you in the face with this pretty cool new blue shark toy that mommy got me at the aquarium." He has the memory of a computer, the mouth of a storyteller, and the stubbornness of a brick wall. He has charm.

I will soon have two boys in my growing monster army, and I have very few expectations concerning the new baby. I have no idea what this kid will be like. He may be loud, rambunctious, and intense. He may be shy. In regard to appearance, we figure that the second beast will look nothing like our first, since number one received such an odd mix of his parents' attributes.

When we decided to learn the baby's sex after 16 weeks, we thought that it would be best to use one of those companies that provide the Creepy 4D Sonograms. Please note that we did not want to view said creepy images in paper or digital form. In fact, we wished to use their 2D option, and actually paid for that particular service. We simply thought that using a private company would allow us to schedule the appointment at a convenient time.

When we arrived, we informed the doctor that we had no need for the fancy technology. He was kind, and said that he would show us the creepy pictures for free. A real gentleman. He quickly got started, and informed us that we were having a boy. When he revealed the 4D image, I was struck by the fact that Baby Orange Voldemort appeared to have my nose. I made the mistake of asking whether the image was indicative of my baby's eventual facial structure.

"Oh, so you want to know if he looks like you..." asked the doctor I just met. As he spoke, his hand moved back and forth across his mouse pad. Within seconds, he revealed that he had drawn a beard on the fetus.

"What do you think?" he asked.

I think I found the coolest doctor in the history of the world. I also think my son might be a velociraptor with facial hair.
Powered by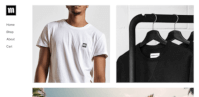 Create your own unique website with customizable templates.